The 2020 Challenge Series Races have been cancelled and rescheduled to Jun 26th, 2021.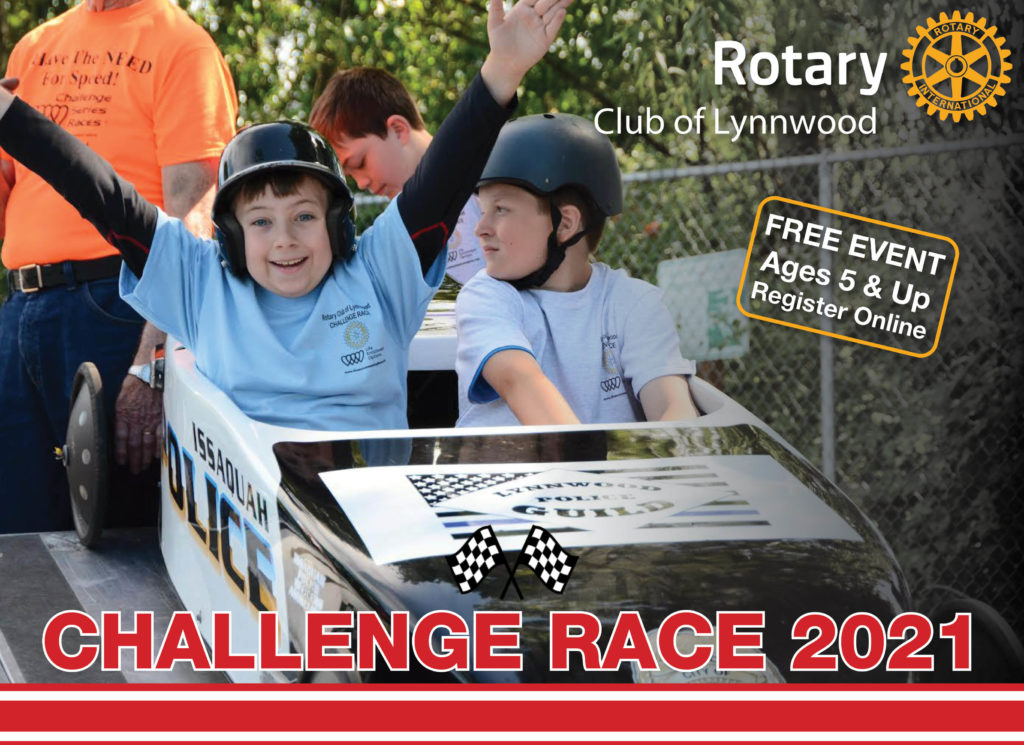 This FREE event is designed for the whole family to enjoy.
Gravity car races allow kids with developmental disabilities (Co-Driver) the experience of a thrilling soap box derby-type race while riding in a car safely piloted by a typically developing peer (Driver). Two cars race down the course to the finish line. Each child has the opportunity to race multiple times during each event. Lunch is provided and an awards ceremony completes a day full of fun and memories.
Register Today!
Registration required to ensure t-shirt, medal, lunch and other free items.
Lynnwood Elementary School
18614 44th Ave W, Lynnwood WA
Saturday, June 26th, 2021 | 9:00 a.m. – 2:00 p.m.
Must be age 5 and older, and under 130 lb in weight
FREE T-Shirt and Participation Medal for everyone! Snacks and lunch included!
FREE Raffle, Resource Fair and activities. Printable Event Photos will be available online!
Click here to watch & Read about King 5 News' coverage of the Challenge Race
The Rotary Club of Lynnwood Challenge Series Race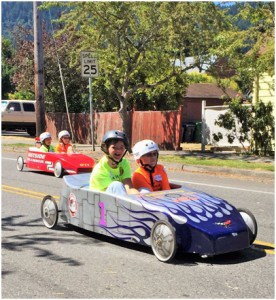 This terrific event allows participants with disabilities to experience the fun of a soapbox derby race, and each child will enjoy the thrill of victory!
For the race, two children climb into the seat of a sleek soapbox derby-style car. With the slam of the starting gate, the car's wheels begin to turn. As gravity kicks in, the two-seater dashes along with the non-disabled child at the wheel and the co-driver with the disability at their side. Both driver and co-driver are an integral part of the team, and the ride is fun for everyone!
The Rotary Club of Lynnwood is partnering with the City of Lynnwood, Community Transit, Edmonds School District and LEO, Life Enrichment Options. LEO is a nonprofit that advocates for and works to support individuals with developmental disabilities to achieve their goals through supportive housing, recreation, employment opportunities and community education. LEO is donating the soap box derby cars for Rotary's use.
Join in the fun as one of our event sponsors, community spectator, driver, co-driver  or volunteer.  Help bring a smile, a terrific sense of pride and accomplishment to a child from our community!
Want to learn more? Download our event flyers.
Challenge Race Poster
History
Why Should you Sponsor
Become a Sponsor
Become a Media Sponsor
Become a Co-Driver, Driver or Volunteer
Register Online
Challenge Race Sponsorship Form
Race Course
The Challenge Series Race Committee-Contact: 206-406-1517
Debbie Bodal, Anne-Marie Lake, Marilla Sargent, Jode Lende, Shannon Sessions, Nicola Smith, Chase Griffin, Toraya Miller, Tim Garberich, EDSD, Marielle Harrington & Eric Peterson, City of Lynnwood, and Fred Nystrom, LEO.
Photo Gallery