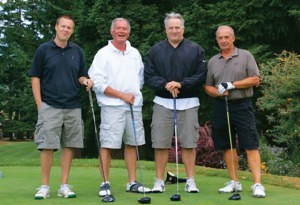 Promote and support club approved projects in order to raise money for our community and international service projects.
Golf Tournament
PURPOSE: Annual fundraiser
CONTACT: Debbie Bodal
TIME COMMITMENT: This committee works throughout the year with major time commitment prior to and at the September tournament.
Rummage Sale
PURPOSE: Annual fundraiser generally held in September
CONTACT: Beth Fraser, Gunnvor Tveidt, Casey Auve & Ken Peirce
TIME COMMITMENT:  Planning and collection of donated goods takes place throughout the year including need for receiving, sorting and transportation of goods from donation site to storage (truck/man power); extensive planning two to three months prior to the event and during the month of September as well as all club members involved for the three days prior to the event.