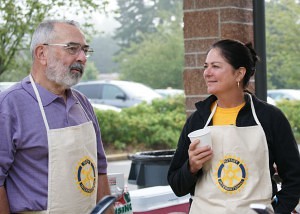 Rotary is a global network of community volunteers. Rotary members are business, professional, and community leaders who provide humanitarian service, encourage high ethical standards, and help build goodwill and peace in the world. Over 32,000 Rotary clubs in more than 200 countries and geographical areas initiate service projects to address today's challenges, including illiteracy, disease, hunger, poverty, lack of clean water, and environmental concerns.
Who We Are:
The Rotary Club of Lynnwood is a service organization of business and civic leaders who meet every Thursday at noon. There is strength in numbers, and we harness the energy gained through fellowship to improving our community. We also partner with other Rotary clubs to assist communities worldwide. We are committed to making a positive impact both today and tomorrow and to promoting goodwill and understanding through our service activities.
Our vision for 2017-18:
To provide a welcoming and inclusive environment for our diverse community that provides vocational, community and international service opportunities and engaging students and new professionals through Rotaract to make meaningful contributions and developing community and partnerships.
Club Vision:
To be the most respected world-class service organization making a positive impact on today's and tomorrow's community leaders.
Club Mission:
The Rotary Club of Lynnwood is a fellowship of leaders who voluntarily support others through vocational, international and community Service.
Core Values:
Act with integrity. Promote fellowship. Be fair. Remain dedicated to serve. Model ethical leadership.