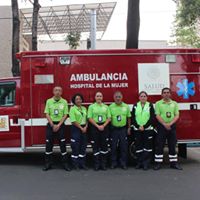 With love, from Lynnwood to Mexico City
In the Spring of 2015 (Lalo) Dr. Everard Espinosa, M.D. and a Lynnwood Rotary Club Rotarian, received a call from his sister in Mexico City about needs for ambulance, pediatric ultrasound and kidney dialysis equipment to provide services to the Hospital General and smaller clinics connected to the hospital.
The project discussed the potential project at a Rotary Club of Lynnwood, International Committee meeting. The committee agreed to tackle the project and invited Sandra Cristina Espinosa, volunteer coordinator at Hospital De La Mujer, a clinic connected to Hospital General in Mexico City, to visit the Rotary Club of Lynnwood.
From these simple steps the Rotary Club of Lynnwood and its International Committee started promoting the project.  Three Rotary Club members and retired physicians were able to use past connections to gain access to potential donors. Dr. Graham Christopher received five dialysis machines from a dialysis center, Lalo received two ultrasound machines from Swedish Hospital and an anesthesia machine from an eye surgery center. Dr. Ken Peirce advised us on building crates for packaging and shipping.
The Rotary Club "purchased" a used ambulance from Snohomish County Fire District 1 using Club Community Service Project funds and received a gurney and gurney equipment from Lynnwood Fire Department. Oak Harbor Freight provided free shipping to Phoenix where free storage was provided in Arizona at Arizona Specialty Motors, owned by Lalo's nephew.
The project committee struggled through myriads of customs forms with help from a most wonderful Mexican customs agent in El Paso. In 2017, after six months of custom's filings, this official agent cleared our cargo for the border crossing to Juarez and Mexico City.
Dozens of groups and people on both sides of the border made this project possible. The Mexico Minister of Health and other delegates were present at arrival of the donations at Hospital General.
We already have begun collecting medical equipment for other projects in Central America.