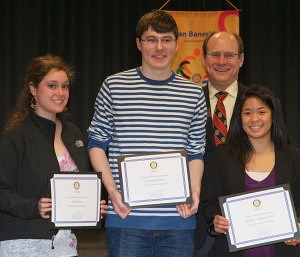 In 2010, Lynnwood Rotary Club Foundation received a gift from the Martha Lake Community Club of almost one million dollars to be held in perpetuity. The income from the principal is to be used for scholarships and early childhood learning grants for students from the South Snohomish County and Martha Lake area.
Recipients must:
Reside within the South Snohomish County area made up of zip codes 98087, 98012 98037, 98036, 98043 or 98026. Recipients should be a graduate of Mountlake Terrace, Meadowdale, Lynnwood, Edmonds-Woodway or Scriber Lake High Schools or certified home school within these boundaries
Demonstrate a commitment to community service by participating in at least one community service/volunteer activity during the year prior to application;
Make a commitment to attend one Rotary Club of Lynnwood meeting.
Download the 2021 Scholarship Application: Rotary_Scholarship_Award_application_2022
or apply on-line: On-line Application