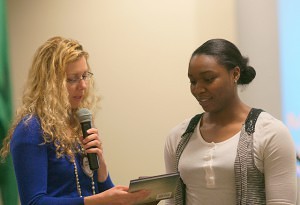 Rotary club of Lynnwood will run "Student of the Month" program for academic year 2014-2015 from October till May.
Program is designed to support and encourage students to follow their passion and making decision to move forward, which can have a tremendous effect on both their own life and the world around them.
Selection of the student is based upon academic achievement, school activities, and community service. Club will partner with the Edmonds School district in the student selection from Meadowdale and Lynnwood High schools.
Student of the month will receive recognition in a club meeting, in an announcement on our site, an award plaque, and a copy of the book "The Butterfly Effect".
In addition, as a recipients of our "Student of the Month" award, students are invited to attend any future Rotary and Rotaract meetings if they wish.
The award will be presented at the last club meeting of each month.