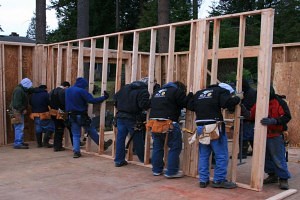 VOCATIONAL SERVICE DIRECTOR: Paul Richards
Encourage Rotarians to serve and mentor others through their vocations while practicing high ethical standards.
House Building Project
PURPOSE:  Collaborative hands-on vocational partnership between Edmonds School District and Edmonds Community College working with 16-18 students who build an actual home that is then sold to maintain a longstanding sustaining project.  This opportunity allows students to go straight into the building industry with proven skills.
CONTACT: Paul Richards
pr.a.llc@gmail.com
TIME COMMITMENT:  May vary throughout the year depending upon the stage of development and construction.
Grants and Scholarships 
PURPOSE:  Recruits, screens and recommends recipients of grants and/or scholarship funds being distributed by either the Club or the Club Foundation Boards.  Scholarships are given to ECC students
CONTACT: Sue Venable
(425) 478-4572
TIME COMMITMENT:  The nine appointed members each service a three year term (staggered) and reports directly to the Club Board of Directors.